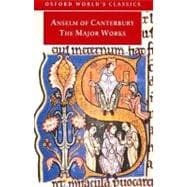 Note: Supplemental materials are not guaranteed with Rental or Used book purchases.
ISBN: 9780192825254 | 0192825259
Cover: Paperback
Copyright: 11/19/1998
'For I do not seek to understand so that I may believe; but I believe so that I may understand. For I believe this also, that unless I believe, I shall not understand.' Does God exist? Can we know anything about God's nature? Have we any reason to think that the Christian religion is true? What is truth, anyway? Do human beings have freedom of choice? Can they have such freedom in a world created by God? These questions, and others, were ones which Anselm of Canterbury (c.1033-1109) took very seriously. He was utterly convinced of the truth of the Christian religion, but he was also determined to try to make sense of his Christian faith. Recognizing that the Christian God is incomprehensible, healso believed that Christianity is not simply something to be swallowed with mouth open and eyes shut. For Anselm, the doctrines of Christianity are an invitation to question, to think, and to learn. Anselm is studied today because his rigour of thought and clarity of writing place him among the greatest of theologians and philosophers. This translation provides readers with their first opportunity to read all of his most important works within the covers of a single volume.