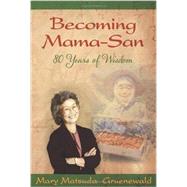 Note: Supplemental materials are not guaranteed with Rental or Used book purchases.
ISBN: 9780939165629 | 0939165627
Cover: Paperback
Copyright: 5/21/2013
In this book, 86-year-old author Mary Matsuda Gruenewald has distilled her lifetime of wisdom into ten stories, each one conveying an essential life lesson. Each chapter is a story from the author's life and how she learned the specific life lesson connected to each story. Mary lived through the Great Depression as a young child, imprisonment in a Japanese-American internment camp as a young adult, the cultural taboos of an interracial marriage, reverse racism, and divorce. In her later years, she learned the importance of forgiveness and reconciliation on a personal level as well as within the Japanese-American community. At 80, Mary recognized there was a part of herself she had never accepted and embraced. A trip to Japan after the publication of her first book helped Mary make peace with her Japanese roots and her ancestors. As a nurse, Mary cared for many patients who faced death. In time, she overcame her own fears about death and dying, which has resulted in her living life more fully. In her mid-80s, Mary completed preparations for her own death, realizing this is part of living a good life. Finally, Mary writes about the importance of leaving a legacy for future generations, and the special way she will leave her legacy. The simple yet profound wisdom in these stories will appeal to all generations seeking insight and direction from elders. The following is a brief description of each chapter. Annotated Contents Prologue: Mama-san I reflect upon my life and the memory of my mother, and what it is like to find myself in the role that she once held for me. Now, I am Mama-san. Chapter 1: The Privilege of a Simple Life Growing up in the 1920s and 1930s on Vashon Island, Washington, I lived in a rural, isolated community. This chapter describes the richness associated with a simple existence, close to nature—a lifestyle vastly different from what most Americans experience in the 21st century. Chapter 2: How Much Is Enough? My parents, hard-working Japanese immigrants, taught me the value of living well within one's means. In this chapter, I discuss arriving at a place of satisfaction by learning not to overindulge. Chapter 3: The Doorway of Boredom At a young age, I learn that boredom can be a powerful motivator. This chapter explores how boredom can actually provide an important opportunity for people to discover who they are and what they want to become. Chapter 4: Do What Needs To Be Done My mother passed on a suggestion that forever shapes my thinking. I describe how this idea, "Do what needs to be done, without being asked or told," leads me to a creative, satisfying way of looking at life, and results in the most important achievements of my professional career. Chapter 5: The Pathway to Forgiveness My marriage to a white man breaks a huge taboo within the Japanese-American community and creates a rift between me and my family. But the seeds of trust, planted long before, provide a pathway to forgiveness and a model for how conflicts can be resolved. Chapter 6: Reconciling Differences During the Japanese-American internment of World War II, a huge conflict develops within our community between the "Yes-Yes" people, who are loyal to the United States, and the "No-No" people, who are deemed disloyal. For some people, the split between these two groups continues to this day—more than 60 years later. I was a Yes-Yes person, and I allowed my choice to remain unexamined for more than 50 years. In this chapter, I experience an epiphany in which I come to understand the falseness of this divide and bring healing to myself and many others over this issue. Chapter 7: Embracing the Other: Mexico Having just faced years of severe prejudice during World War II, I spent a summer in Mexico as a young missionary and nurse. While providing medical care to the impoverished residents, I become a favorite of the community. But my white American companions suffered discrimination at the hands of the dominant culture. This experience left me feeling curiously empowered and taught me important lessons about race. Chapter 8: Embracing the Self: Japan Set over 55 years later, this chapter is a companion to Chapter Seven. After my first book is published, I reluctantly agree to a book tour in my ancestral homeland, Japan. While the Japanese people were delightfully welcoming, I did not feel I belonged in this culture—until I met a distant relative, a woman of my age. After spending most of my life avoiding my identity as Japanese person, I finally experienced a deep connection to Japan in a way I had yearned for but never felt. Chapter 9: A Good Death is Part of a Good Life During the Japanese-American internment, I constantly faced the possibility of death, whether at the hands of gun-wielding soldiers or from violence within the community. Later, as a nurse, I repeatedly witnessed death through my role as a compassionate care-giver. But it was my mother, Mama-san, who taught me that a "good death" is part of a good life. As a nurse activist, and from my viewpoint as an elder, I describe how others can live more fully by overcoming their fears about dying. Chapter 10: Leaving a Legacy An unexpected medical diagnosis spurs me to tie up loose ends in my life and prepare for my own death. The problem of what to do with a vacant piece of property became an opportunity to make a lasting contribution to the well-being of the planet. My son and I planted a "forever forest" on five acres of land that my family farmed for over half a century. This forest is my legacy to future generations.