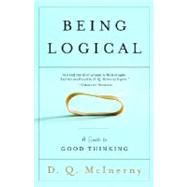 Note: Supplemental materials are not guaranteed with Rental or Used book purchases.
ISBN: 9780812971156 | 0812971159
Cover: Trade Paper
Copyright: 5/10/2005
Whether regarded as a science, an art, or a skilland it can properly be regarded as all threelogic is the basis of our ability to think, analyze, argue, and communicate. Indeed, logic goes to the very core of what we mean by human intelligence. In this concise, crisply readable book, distinguished professor D. Q. McInerny offers an indispensable guide to using logic to advantage in everyday life. Written explicitly for the layperson, McInerny'sBeing Logicalpromises to take its place beside Strunk and White'sThe Elements of Styleas a classic of lucid, invaluable advice. As McInerny notes, logic is a deep, wide, and wonderfully varied field, with a bearing on every aspect of our intellectual life. A mastery of logic begins with an understanding of right reasoningand encompasses a grasp of the close kinship between logical thought and logical expression, a knowledge of the basic terms of argument, and a familiarity with the pitfalls of illogical thinking. Accordingly, McInerny structures his book in a series of brief, penetrating chapters that build on one another to form a unified and coherent introduction to clear and effective reasoning. At the heart of the book is a brilliant consideration of argumenthow an argument is founded and elaborated, how it differs from other forms of intellectual discourse, and how it critically embodies the elements of logic. McInerny teases out the subtleties and complexities of premises and conclusions, differentiates statements of fact from statements of value, and discusses the principles and uses of every major type of argument, from the syllogistic to the conditional. In addition, he provides an incisive look at illogical thinking and explains how to recognize and avoid the most common errors of logic. Elegant, pithy, and precise,Being Logicalbreaks logic down to its essentials through clear analysis, accessible examples, and focused insights. Whether you are a student or a teacher, a professional sharpening your career skills or an amateur devoted to the fine points of thought and expression, you are sure to find this brief guide to effecting reasoning both fascinating and illuminating. From the Hardcover edition.