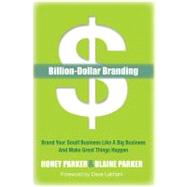 Note: Supplemental materials are not guaranteed with Rental or Used book purchases.
ISBN: 9781614482727 | 1614482721
Cover: Paperback
Copyright: 10/1/2012
Go ahead. Ask 10 people what branding is. You'll get 10 different answers. Mainly, those answers will be about things like logos, colors, fonts, jingles, or ads. The only apparent truth: Branding is the single most misunderstood concept in American marketing. But for the businesses who understand brand, life becomes much easier---and much more profitable. If you have a business and think your business has a brand, "Billion-Dollar Branding" will make you think again. "Billion-Dollar Brandin"g will shake the very foundations of everything you thought you knew about branding, rattle it around, and dump it down in front of you to be reassembled into the basis for pulverizing your competition. Or, at the very least, make it easier to advertise your business, win friends, and influence prospects. No matter the size of your business, whether there's one employee or one hundred, "Billion-Dollar Branding" has down-to-earth, actionable advice for your marketing. Drawing from examples as wide ranging as McDonald's and Motel 6, Andrew Dice Clay and Jeff Foxworthy, Denny's and the Disney Concert Hall, and various small businesses you've never heard of, "Billion-Dollar Branding" gets down to the business of branding---and offers a few laughs along the way. (Besides being career advertising professionals, both the authors have competed in the business of stand-up comedy. It's sometimes difficult to get them to behave.) No matter what kind of advertising you do for your business, whether you're a social media maniac or a hard-core, dyed-in-the-wool Direct Response fiend, or you insert a homemade flyer into your local paper once a month, "Billion-Dollar Branding" wants you to find your juicy center. Get this book. Get branding. Get more business. Or don't. The choice is yours.