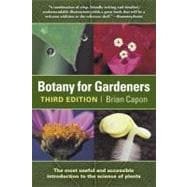 Note: Supplemental materials are not guaranteed with Rental or Used book purchases.
ISBN: 9781604690958 | 160469095X
Cover: Paperback
Copyright: 5/21/2010
A bestseller since its debut in 1990, this indispensable and handy reference has now been expanded and updated to include an appendix on plant taxonomy and a comprehensive index. Two dozen new photos and illustrations make this new edition even richer with information. Its convenient paperback format makes it easy to carry and access, whether you are in or out of the garden. An essential overview of the science behind plants for beginning and advanced gardeners alike.
What happens inside a seed after it is planted? How do plants reproduce and grow? What roles do minerals, air, and light play in the life of a plant? Still the most complete, compact, accessible introduction to the world of botany, this third edition includes dazzling electron microscope photos and even more amazing facts about plants. From plant anatomy to basic genetics, this marvelous book explains the science of plants in plain language anyone can understand.
"A combination of crisp, friendly writing and detailed, understandable illustrations (both line drawings and photographs) yields a great book that will be a welcome addition to the reference shelf." -Kim Long Bloomsbury Review
"Gives the basics in a layperson's language, and it's not the size of a typical scientific tome, which in my book recommends it highly." -Dulcy Mahar Oregonian
"An essential reference for every gardener—and every young person who otherwise won't learn the botanical sciences and miss out on a whole lot of life."-Margaret Roach A Way to Garden blog
"An outstanding and enjoyable introduction to botany, whether the reader is a gardener, or just a garden visitor."-SciTech Book News