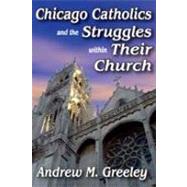 Note: Supplemental materials are not guaranteed with Rental or Used book purchases.
ISBN: 9781412814799 | 1412814790
Cover: Hardcover
Copyright: 5/15/2011
What might one expect to learn from a probability sample study of the Archdiocese of Chicago? Can one form a national portrait of Catholics in the United States from data about Chicago? Certainly, Chicago is unique in its judgments about its clergy. As the eminent Catholic sociologist Andrew M. Greeley argues, it is this very difference that makes rigorous comparisons between Chicago Catholics and other Catholic subpopulations possible. He suggests that history and geography provide a basis for understanding the development of the Catholic Church not just in this specific area, but also in the entire United States. The Catholic Archdiocese of Chicago it composed of two counties, Lake and Cook. At the same time the Catholic population has been pushed up against the boundary of DuPage County by racial change in the city, so that much of the west and south side Catholic population of the city has moved into the southern and western suburbs. In this research area, half of the Catholics have attended college and half of those have attended graduate school. Thus, the conventional image of Chicago as a mix of ethnic immigrant neighborhoods has to be modified-although there are still many new immigrants attending special immigrant parishes. Greeley argues that the official church in Chicago, and by inference elsewhere, has not recognized the community structures that permeate the neighborhoods, that it does not grasp the religious stories that shape its peoplesrs" identity, and it does not understand the intense, if selective, loyalty of the archdiocese to its leadership. As part of this argument, Greeley includes transcriptions of in-depth interviews with former Catholics. This study provides a fascinating window into the world of Catholicism in twenty-first century urban America.Andrew M. Greeley is a Catholic priest and best-selling novelist. He is professor of social science at the University of Chicago and member of its National Opinion Research Center (NORC). Among his books are Faithful Attraction , The Denominational Society , Unsecular Man , Death and Beyond , and The Church and the Suburbs .