The Digital Matrix New Rules for Business Transformation Through Technology
, by
Venkatraman, Venkat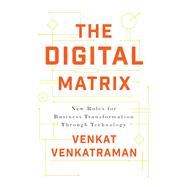 Note: Supplemental materials are not guaranteed with Rental or Used book purchases.
ISBN: 9781928055204 | 1928055206
Cover: Hardcover
Copyright: 1/31/2017
Technology has changed the way consumers shop, communicate and consume media so profoundly, we feel like we are already living in the future. But the truth is, this is only the first wave of digital business transformation.

Respondents to a recent survey of more than 900 business leaders in 12 countries estimated that 40% of the world's largest companies will be displaced by digital disruption in the next five years.

The healthcare, agriculture, fashion, energy and automotive industries and others will be transformed in much the same way that way Uber has upended the taxi industry, and Airbnb has made hotels irrelevant for millions of travelers.

Most CEOs in these arenas have no clue how to respond to the opportunities and threats that now confront them. How might a Detroit automaker take the lead in robot cars? How might a fashion company reposition with wearable technology? How might the availability of real-time personal data change the way insurance companies and healthcare providers design and deliver their services?

The Digital Matrix: Rulebook for the Business of the Future has the answers they need. Author Venkat Venkatraman is a Boston University professor, researcher, and consultant who has built his 30-year career on studying industries and business systems transformed by digital technologies.

Legacy companies can succeed by developing new business models around digital technology, and by developing strategic relationships with entrepreneurs and digital giants. Failure to interconnect with these other two sets of players is fatal. The Digital Matrix explains how to do it successfully.

Through compelling case studies, Venkatraman illustrates specific ways in which industry incumbents are using emerging technology to reimagine every aspect of their business. Examples in the book include Nike, Monsanto, Disney, John Hancock Financial, John Deere and GE, among many others.

Venkatraman shares four winning rules for digital success, and provides tools to help readers apply them in their own businesses. The book leads readers, step by step, through the process of diagnosing their current position, analyzing their strengths and opportunities, and designing their own digital playbook for success.

Every industry's future is digital. Companies born of the industrial era can no longer count on decades of "business as usual" ahead. But they also don't need to accept extinction as their fate.

Urgent and uplifting, analytical yet practical, The Digital Matrix is an easy to follow rulebook for every business leader whose sights are set on survival today, and success in years to come.