A Dirty Year Sex, Suffrage, and Scandal in Gilded Age New York
, by
Greer, Bill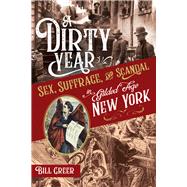 Note: Supplemental materials are not guaranteed with Rental or Used book purchases.
ISBN: 9781641602518 | 1641602511
Cover: Hardcover
Copyright: 4/7/2020
As 1872 opened, the New York Times headlined four stories that symptomized the decay in public morals that the editors so frequently decried: financier Jim Fisk was gunned down in a love triangle; suffragist and free-love advocate Victoria Woodhull was running for president; anti-vice activist Anthony Comstock battled smut dealers poisoning children's minds; and abortionists were thriving. Throughout the year these stories intertwined in unimaginable ways, pulling in others, both famous and infamous—suffragists Susan B. Anthony and Elizabeth Cady Stanton; Brooklyn's beloved preacher Henry Ward Beecher; the nation's richest tycoon, Cornelius Vanderbilt; and William Howe, preeminent counsel to the criminal element.

From rigged elections, everyday shootings, and attacks on the press to sexual impropriety, reproductive rights, and the chasm between rich and poor, the issues of the day still resonate. Political parties split over a bitterly contested election; suffragist battled suffragist over bettering women's place in society; and pious saints fought soulless sinners, until at year-end this jumble of conflicts exploded in the greatest sensation of the nineteenth century.