Evidence: Rules, Statute and Case Supplement : Includes: Federal Rules of Evidence, with Excerpted Notes; California Evidence Code, with Excerpted Comments; Uniform Rules of Evidence, with Comments; Excerpts from Rules of Professional Conduct; Comparative
, by
Weinstein, Jack B.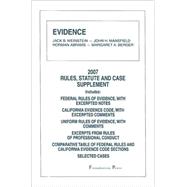 Note: Supplemental materials are not guaranteed with Rental or Used book purchases.
ISBN: 9781599413082 | 1599413086
Cover: Paperback
Copyright: 7/27/2007
This is the 2007 Supplement to Weinstein, Mansfield, Abrams and Berger's Evidence, Ninth Edition. The 2007 Supplement contains recent changes in Federal Rules of Evidence 404, 408, 606 and 609. Also included is proposed Rule 502, dealing with the Attorney-Client Privilege and the Work Product Privilege, the first proposed change in the position Congress took when it first enacted the Federal Rules in 1975, at which time it eliminated all specification of privileges proposed by the Supreme Court thus leaving privileges to the common law. The Supplement also contains a complete updating of the California Evidence Code and some important new cases dealing with selected topics. In the Chapter on Testimonial Evidence, Holmes v. South Carolina and Clark v. Arizona, dealing with constitutional restrictions on a criminal defendent's right to introduce evidence, have been added. In the Hearsay Chapter, additional material is included relating to the impact of Crawford on rights under the Confrontation Clause, particularly in regard to limitations on in-court testimony. Finally, in the Chapter on Burden of Proof, Dixon v. United States is described, a case that discusses whether Due Process limits the legislature in placing the burden of proof on criminal defendants in regard to affirmative defenses.