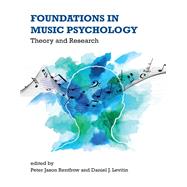 Note: Supplemental materials are not guaranteed with Rental or Used book purchases.
ISBN: 9780262039277 | 0262039273
Cover: Hardcover
Copyright: 3/12/2019
A state-of-the-art overview of the latest theory and research in music psychology, written by leaders in the field.
This authoritative, landmark volume offers a comprehensive state-of-the-art overview of the latest theory and research in music perception and cognition. Eminent scholars from a range of disciplines, employing a variety of methodologies, describe important findings from core areas of the field, including music cognition, the neuroscience of music, musical performance, and music therapy. The book can be used as a textbook for courses in music cognition, auditory perception, science of music, psychology of music, philosophy of music, and music therapy, and as a reference for researchers, teachers, and musicians.
The book's sections cover music perception; music cognition; music, neurobiology, and evolution; musical training, ability, and performance; and musical experience in everyday life. Chapters treat such topics as pitch, rhythm, and timbre; musical expectancy, musicality, musical disorders, and absolute pitch; brain processes involved in music perception, cross-species studies of music cognition, and music across cultures; improvisation, the assessment of musical ability, and singing; and music and emotions, musical preferences, and music therapy.
Contributors
Fleur Bouwer, Peter Cariani, Laura K. Cirelli, Annabel J. Cohen, Lola L. Cuddy, Shannon de L'Etoile, Jessica A. Grahn, David M. Greenberg, Bruno Gingras, Henkjan Honing, Lorna S. Jakobson, Ji Chul Kim, Stefan Koelsch, Edward W. Large, Miriam Lense, Daniel Levitin, Charles J. Limb, Psyche Loui, Stephen McAdams, Lucy M. McGarry, Malinda J. McPherson, Andrew J. Oxenham, Caroline Palmer, Aniruddh Patel, Eve-Marie Quintin, Peter Jason Rentfrow, Edward Roth, Frank A. Russo, Rebecca Scheurich, Kai Siedenburg, Avital Sternin, Yanan Sun, William F. Thompson, Renee Timmers, Mark Jude Tramo, Sandra E. Trehub, Michael W. Weiss, Marcel Zentner