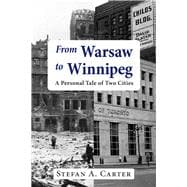 Note: Supplemental materials are not guaranteed with Rental or Used book purchases.
ISBN: 9780889629370 | 0889629374
Cover: Paperback
Copyright: 1/3/2012
From Warsaw to Winnipegis a wonderfully written account of one man's voyage from the 'old' to the 'new' world. It encompasses a personal and an historical reflection on Poland prior, during and immediately after World War II. It is also an important reflection on the transformations within the medical profession and changes in medical practice. In the auhor's own words: "This book is my personal 'tale of two cities,' and of two countries set in the historic context of World War II. It is also a tale of two epochs extending over about seventy-five years. These two cities and countries differ not only in geography, but also in their social dynamics. Yet, I also learned that in some respects the two countries were similar before and during World War II. The world of my childhood in Poland was destroyed by the war. The war exacted a huge price on peoples' lives and affected the world profoundly. There appears, therefore, a need to tell more stories of the surviving individuals' experiences from these times. They are all different and there is an urgency to make their stories known, as the number of the survivors dwindles rapidly. Many of the previously published stories from the war-era dealt with the tragic experiences during the war. This account includes my recollections of the rich life we led before war erupted in Poland. It also deals at considerable length with the post-war life in Canada, and illustrates that many of the survivors Hitler failed to destroy were able to establish a new and meaningful life."