Generation Wtf: From What the #$%&! to a Wise, Tenancious, and Fearless You: Advice on How to Get There from Experts and Wtfers Just Like You
, by
Whelan, Christine B.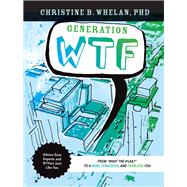 Note: Supplemental materials are not guaranteed with Rental or Used book purchases.
ISBN: 9781599473475 | 159947347X
Cover: Paperback
Copyright: 2/4/2011
We all know what "WTF" usually stands for: itrs"s an exclamation of frustration and anger, and itrs"s an understandable reaction to the tough new economic realities that have hit young adults harder than any other group.WTF happened to promises of a bright future? What happened to the jobs? And what do we do now that the rules have changed?Recent college grads were raised in a time of affluence and entitlement, lulled into thinking that a golden future would just happen. With few role models to teach values like thrift, perseverance, and self-control, young adults are ill-equipped to cope with sacrifice and failure, and their dismal employment prospects are merely the most visible symptom of greater challenges.Fortunately, itrs"s not too late to change course. This optimistic, introspective, and technologically savvy generation already possesses many of the tools they need to thrive-if only they learn to harness the necessary skills for success.InGeneration WTF, Christine Whelan does just that. Dr. Whelan, one of the foremost authorities on the history of the self-help genre, worked with more than one hundred young people to test and tweak the very best old-school advice and personalize it for the modern twenty-something. After a decade of researching the industry-and years advising "WTFers" as they struggle to make their way in the "real world"-Dr. Whelan knows firsthand what advice works and what Generation WTF has to offer.Rather than focusing on the frustration that "WTF" usually stands for, Dr. Whelan leads the charge to reclaim the acronym as a battle cry for a positive future: Generation WTF will be a wise, tenacious, and fearless generation, strengthened by purpose and hope. This practical new guide will show these WTFers the way to success and instill lasting habits that will serve them well in both good times and bad.