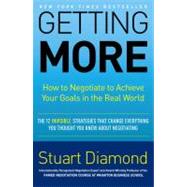 Note: Supplemental materials are not guaranteed with Rental or Used book purchases.
ISBN: 9780307716897 | 0307716899
Cover: Hardcover
Copyright: 12/28/2010
World renowned negotiator and Wharton Professor Stuart Diamond believes that the negotiation seems to have succumbed to the dogma of win-win. But win-win--and in fact any rigid stance to negotiation--is flawed.
Sometimes, the point is to lose--in order to gain what you want another time. Sometimes it pays to trade favors of unequal value--not everything is about dollars and cents. The point is to define your goals, and meet them--whatever those goals are. As Diamond makes clear, negotiation is a part of life--it is the basic process of interaction. And most of us are terrible at it.
Negotiation experts tell people negotiations should be, or can be, rational. Bunk! People get scared, angry, vengeful, fearful and irrational. That is how real life plays out. You have to be able to deal with the unpredictable. In a book that shows how negotiation plays out in the real world, Stuart Diamond offers a powerful toolkit on how to get more in any situation. He talks about being incremental instead of going for the fences; about the fact that people are the single most important element in a negotiation. Miscommunication, he says, is the biggest cause of a negotiation breakdown. He suggests a tool that can overcome even the hardest bargainer--using their own standards and policies against them.
Diamond talks about intangible elements that can be traded off in a negotiation, how emotions can undermine the quality of any negotiation, and creative ways to break impasses. He looks at how we can negotiate better at work and in our careers, in our relationships with our kids, and in our everyday lives. Negotiation is part of the fabric of our lives--we don't have the option of sitting on the sidelines, and letting others run roughshod over our careers and our lives.
Stuart Diamond shows us how to achieve what we want--how to get more--whether we are negotiating the cost of a new car with a dealership, or negotiating with a troublesome teen over his or her homework.