Give Me Liberty The True Story of Oswaldo PayŠ and his Daring Quest for a Free Cuba
, by
Hoffman, David E.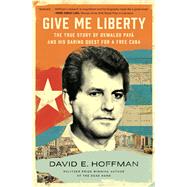 Note: Supplemental materials are not guaranteed with Rental or Used book purchases.
ISBN: 9781982191207 | 1982191201
Cover: Paperback
Copyright: 12/31/2050
From the Pulitzer Prize–winning Washington Post reporter David E. Hoffman comes the riveting biography of Oswaldo Payá, a dissident who dared to defy Fidel Castro, inspiring thousands of Cubans to fight for democracy.

Oswaldo Payá was seven years old when Fidel Castro seized power in Cuba, promising to create a "free, democratic, and just Cuba." But Castro instead created an authoritarian regime with little tolerance of free speech or thought. His secret police were trained to crush dissent by East Germany's ruthless Stasi.

Throughout Cuba's 20th century history, the dream of democracy was often just within reach, only to be dashed by dictatorship and revived again by a new generation. Payá inherited this dream and it became his life's work. As a teenager in Communist Cuba, he led a protest against the Soviet-led shattering of the Prague Spring. Before long, he was sent to Castro's forced labor camps. Payá later became a leading voice of opposition and formed a pro-democracy movement. A devoted Catholic, he championed a simple, bedrock belief that rights are bestowed by God, and not the state. Every day, he witnessed these rights trampled in Cuba. He could not stay silent.

Payá's most daring challenge to the Cuban government was the Varela Project, a one-page citizen petition demanding free speech, a free press, freedom of association, freedom of belief, private enterprise, free elections, and freedom for political prisoners. More than 35,000 people signed the Varela Project, an extraordinary outpouring of protest—with nothing more than pen and paper—against Castro's decades of despotism. The regime responded by ignoring the petition, arresting dozens of Payá's followers, and sending them to prison for many years. After receiving multiple death threats, Payá was killed in a suspicious car wreck on a remote country road.

Pulitzer Prize–winning reporter David E. Hoffman returns with an epic portrait of a lone individual who had the courage, faith, and persistence to struggle for democracy against an unforgiving dictator. At its heart, Give Me Liberty is a sweeping account of one country's tragic and continuing struggle for its freedom.