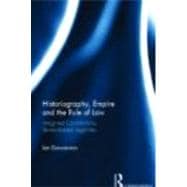 Note: Supplemental materials are not guaranteed with Rental or Used book purchases.
ISBN: 9780415678865 | 0415678862
Cover: Hardcover
Copyright: 11/14/2011
Law, the Subject and Empire considers the intersection of these terms in the historical development of that configuration of institutions that has come to be known as the rule of law. The separation of governmental powers, checks and balances, and judicial independence signified something entirely new in the way in which politics was imagined and practiced. In seventeenth and eighteenth century Great Britain, the politically powerful sought security from each other and from the Crown, in the tripartite parliament of executive, Lords and Commons; the lower orders sought influence, although they lacked the vote and free speech. It was against the perceived twin evils, of authoritarian rule, on the one hand, and anarchy, on the other, that Ian Duncanson charts the emergence of the rule of law. This rule of law cannot, as many have argued, be traced to the justification and practice of government as originating in a social contract among the governed; but rather, by analogy with a popular conveyancing innovation of the era, to the trust #xE2;#xAC;#x1C; a device by which the power of ownership of land could be restrained. But how could the restraint of power remain consistent with the avoidance of anarchic disagreement among those granted the task of supervision and restraint? Would they not squabble endlessly and beyond bounds concerning the limits of the power over them? In response, and drawing on a colonial tradition that emphasized politeness, civility, negotiation and compromise, the central legal and political task became one of managing disagreement and change peacefully and constructively. The regime inaugurated by the Glorious Revolution ultimately inspired those excluded from politics, not to dismantle its processes, but to seek participation in them. As such, it provided an immediate environment in which democracy was slowly accomplished, if sometimes with violence, then at least without revolution; as well as an example for the Americans, and later the world, to follow.