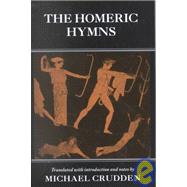 Note: Supplemental materials are not guaranteed with Rental or Used book purchases.
ISBN: 9780199240258 | 0199240256
Cover: Hardcover
Copyright: 9/6/2001
The Homeric Hymns honour the Greek gods. They are called 'Homeric' because the ancients attributed them to Homer; it is now accepted that they were composed by later poets working in the same tradition, probably during the seventh and sixth centuries BC. Four of them (Hymns 2-5) stand out byreason of their length and quality. The Hymn to Demeter tells what happened when Hades, lord of the dead, abducted Persephone, Demeter's daughter (this storyy is connected to the Eleusinian Mysteries, which offered the Greeks the hope of a better lot in the afterlife). The Hymn to Apollo recountsApollo's birth and the foundation of his Delphic oracle. In the Hymn to Hermes Apollo's cattle are stolen by a felonious infant--Hermes, god of thieves. In the Hymn to Aphrodite the goddess of love herself becomes infatuated with a mortal man, the Trojan prince Ankhises (their son is Aineias, thehero of Virgil's Aeneid). This volume offers a faithful verse translation of all the hymns, Explanatory Notes, and a Glossary of Names.