How to Heal After Heartbreak: How to Recover from a Breakup and Get Your Hopes and Dreams Back
, by
Gottschalk, Chris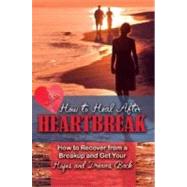 Note: Supplemental materials are not guaranteed with Rental or Used book purchases.
ISBN: 9781601385833 | 1601385838
Cover: Paperback
Copyright: 6/30/2014
"It's not you, it's me." "We've grown apart." "I think we should start seeing other people." Whether it's because of trust issues a bad fight, bad sex, or you can't put your finger on where it went wrong, breaking up is never easy. In fact, it has the power to tear down your world in an instant. It may leave you sad, lost, confused, angry, or just plain lonely. Questions may torment your thoughts and get in the way of your ability to focus or socialize. You may even feel like you cannot function without your other half, the one you were so comfortable and familiar with. You begin the endless list of questions: "What am I supposed to do with myself? Why am I not good enough? Was I too overbearing? Did I not give up enough?" It's overwhelming and exhausting, and the only way to recover is to find the help to rebuild your strength and move on. Your friends tell you that time heals all wounds, but you wonder what happens if it doesn't. Some say it takes half the time you dated to get over your ex, but that's usually far from the truth. How to Heal After Heartbreak helps mend your heart and put your life back on track. You will learn the fundamentals of relationships and why yours did not work out. You will get to know what to expect from heartbreak - betrayal, competition, self-attack, and denial - and how to best handle it. You may be one step away from slashing your ex's tires or hacking into his or her Facebook account, but this book will work you through those emotions and tell you how to avoid tantrums, threats, violence, and acts of revenge. Instead, you will learn to walk with grace as you choose the high road to emotional freedom. Your feelings may instead be overly sentimental, where you're still sleeping with his t-shirt or listening to her voicemails on repeat, fighting the temptation to beg your ex to come back. Fortunately, you can get your life back without losing your dignity. Learn how to be your own best friend and dissociate yourself from your ex as you start to understand what has happened. This comprehensive guide is bursting with tips and advice for coping and will walk you through the steps you need to get back on track and forget about what could have been. Delete your ex's number, put down the phone and pick up this comprehensive guide. This book will establish rules for talking, instant messaging, Skyping, texting, and even thinking about your ex, as well as prepare you for any accidental - or intentional - encounters. You will discover how to avoid becoming the victim of heartbreak. We've spent dozens of hours interviewing psychologists and other experts to come up with proven methods of positive psychology to allow you to focus on what makes yourself, and your life, so amazing. We'll help you bypass the depression and bitterness that so many people struggle with when facing a breakup. With this helpful prescription to heal your heart, we'll bringing the light back into your life, you'll learn the rules about your ex and moving on gracefully so that you can mend the pieces of your broken heart, and move on to a brighter and better you.