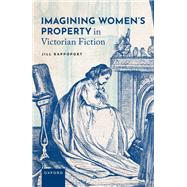 Note: Supplemental materials are not guaranteed with Rental or Used book purchases.
ISBN: 9780192867261 | 0192867261
Cover: Hardcover
Copyright: 7/20/2023
Imagining Women's Property in Victorian Fiction reframes how we think about Victorian women's changing economic rights and their representation in nineteenth-century novels.

The reform of married women's property law between 1856 and 1882 constituted one of the largest economic transformations England had ever seen, as well as one of its most significant challenges to family traditions. By the end of this period, women who had once lost their common-law property rights to their husbands reclaimed their own assets, regained economic agency, and forever altered the legal and theoretical nature of wedlock by doing so. Yet in literary accounts, reforms were neither as decisive as the law implied nor limited to marriage. Legal rights frequently clashed with other family claims, and the reallocation of wealth affected far more than spouses or the marital state. Competition between wives and children is just one of many ways in which Victorian fiction suggests the perceived benefits and threats of property reform.

In nineteenth-century fiction, portrayals of women's claims to ownership provide insight into the social networks forged through property transactions and also offer a lens to examine a wide range of other social matters, including testamentary practices, wills, and copyright law; economic and evolutionary models of mutuality; the twin dangers of greed and generosity; inheritance and custody rights; the economic ramifications of loyalty and family obligation; and the legacy of nineteenth-century economic practices for women today. Understanding the reform of married women's property as both an ideologically and materially substantial redistribution of the nation's wealth as well as one complicated by competing cultural traditions, this book explores the widespread ways in which women's financial agency was imagined by fiction that engages with but also diverges from the law in accounts of economic choices and transactions. Repeatedly, narratives by Austen, Dickens, Gaskell, Trollope,
Eliot, and Oliphant suggest both that the law is inadequate to account for the way that property enables and disrupts relationships, and that the form of the Victorian novel - in its ability to track intimate and intricate exchanges across generations - is better suited to such tasks.