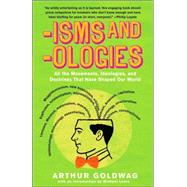 Note: Supplemental materials are not guaranteed with Rental or Used book purchases.
ISBN: 9780307279071 | 0307279073
Cover: Trade Paper
Copyright: 10/9/2007
Have you ever wondered about the difference between Fundamentalism and Evangelicalism and which influenced the other? Do you know where Post-modernism stops and Post-structuralism begins? Would you like to? From Platonism to New Historicism, humankind is constantly coming up with fresh schools of thought to help explain (or at least describe) the mysterious world around us. Here is the ultimate guide to over 450 of the most significant intellectual terms, movements, and religions that help shape the society we live in. Simply, concisely, and with personality, 'Isms and 'Ologiesclarifies buzz terms likejihad, often defined as "holy war" but which literally means "striving" ;and illustrates the differences between Conservatism, Paleoconservatism, and Neoconservatism. It explains String Theory (which attempts to unify Quantum Mechanics and Einsteinian Relativity); describes Fauvism (an artistic movement that paved the way for Expressionism and Cubism); defines Locofocoism (an American political ideology named after a "self-lighting cigar)"; and identifies and explores so much more. Helpfully divided into categoriesincluding politics, history, philosophy and the arts, economics, religion, science, and medicinecross referenced, and thoroughly indexed,'Isms and 'Ologiesis a must have for the budding intellectual in everyone.