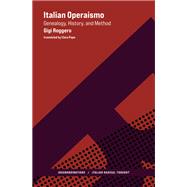 Note: Supplemental materials are not guaranteed with Rental or Used book purchases.
ISBN: 9780262047920 | 0262047926
Cover: Paperback
Copyright: 3/28/2023
An accessible, introductory presentation of operaismo, one of the most important revolutionary theories and praxes of the twentieth century.

"Operaismo is a Machiavellian return to first principles: it is a return to Marx against Marxism, against its tradition of determinism, historicism, and objectivism. Operaismo isn't a heresy within the Marxist family, it is a rupture with that family."—extract from Italian Operaismo

This accessible, introductory presentation of operaismo (or "workerism" in English) arms readers with a deeper understanding of the concepts, context, and history of one of the most important revolutionary theories and praxes of the twentieth century. While the ideas of some of its proponents—above all, Antonio Negri—have circulated widely in the English-speaking world over the past twenty years, rather less is known about the context from which (and against which) these perspectives originally emerged. Gigi Roggero here introduces that broader workerist project, and examines how its various analyses of modern social structures, and the possibility for changing them, related to a potent social movement in Italy during the 1960s and 1970s.

Italian Operaismo provides a clear overview of the central moments in that tendency's development—from the Italian labor movement's crisis of direction in the 1950s, the encounter with the "new forces" within the working class at FIAT and elsewhere in the early 1960s, and the political journals Quaderni rossi and Classe operaia, to the experience of Potere Operaio and other organizations a decade later. For readers more familiar with this story, the book provides a rereading of operaismo that is both salutary and provocative, one that stresses above all the role within it of subjectivity and political engagement, demonstrating the continued relevance of its subversive method as a tool for reworking the categories of radical and revolutionary thought.

This book will serve as a compact, essential work on how to go about eliminating the gap between theory and practice.