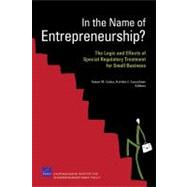 Note: Supplemental materials are not guaranteed with Rental or Used book purchases.
ISBN: 9780833043955 | 0833043951
Cover:
Copyright: 10/11/2007
There has been ongoing concern that some regulations, rules, and government policies place a disproportionate burden on small businesses and entrepreneurs. For this reason, small businesses often receive special regulatory treatment, such as exemptions from legislation or extended deadlines for compliance. However, the desire to support small businesses can come into conflict with the interest in addressing the concerns that led to the regulation or policy in the first place. Moreover, it is often unclear whether special regulatory treatment for small businesses is having the intended effect. This book sheds light on these issues through analysis of the regulatory and public policy environment with regard to small businesses, including focused studies in four key areas: health insurance, workplace safety, corporate governance, and business organization. The authors offer support for the idea that the regulatory environment has a different effect on the behavior of small businesses than it has on that of large ones. However, they also demonstrate that policies designed specifically to help small businesses do not always have the intended effect. The lack of a consistent definition of small business confounds our understanding of these issues. The book suggests possible directions for future policy that achieves a better balance between the interest in restricting firm behavior through regulation and the desire to encourage small businesses and entrepreneurs.