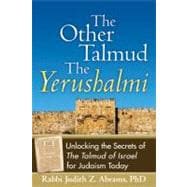 Note: Supplemental materials are not guaranteed with Rental or Used book purchases.
ISBN: 9781580234634 | 1580234631
Cover: Hardcover
Copyright: 5/15/2012
Today¿s Judaism is based on the Talmud of Babylonia, called the Bavli. All the law codes we have are based on this Talmud. But what if this weren¿t so? What if the other Talmud, the Yerushalmi¿the Talmud of the Land of Israel¿had won? What would that mean for the practice of Judaism today? This engaging look at the Judaism that might have been breaks open the Talmud of the Land of Israel, which is growing in popularity as translations become more numerous. It examines what the Yerushalmi is, how it differs from the Bavli, and how and why the Bavli is the Talmud used today. It reveals how the Talmud of the Land of Israel presents a Judaism that closely resembles today¿s liberal Judaism. As further exploration of this ¿other Talmud,¿ you¿ll explore the many ways this Talmud would have had influence over all aspects of Jewish life: What kind of mysticism would you practice? How would you meditate? How would holiday celebrations differ from these we have today? How would you pray? What would be your greatest virtues? Your most terrible sins? What kind of karma would you believe in?