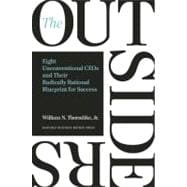 Note: Supplemental materials are not guaranteed with Rental or Used book purchases.
ISBN: 9781422162675 | 1422162672
Cover: Hardcover
Copyright: 10/23/2012
It's time to redefine the CEO success story. Ask most people what describes an effective CEO, and you'll get a pretty consistent answer--"a seasoned manager with deep industry expertise." Magnify that through today's celebrity-saturated lens, and someone like former GE head Jack Welch becomes the poster child for CEO success: seasoned, but also charismatic, cutting-edge, and Wall-Street savvy. But is this the blueprint we should be following? Not necessarily. The performance of Welch and other high-profile CEOs doesn't come close to the achievements of the CEOs profiled in The Outsiders. Meet eight iconoclastic leaders who helmed firms where returns on average outperformed the S&P 500 by over 20 times. You may not know some of their names (Henry Singleton, Bill Anders, Tom Murphy)--but you will recognize many of their companies (General Cinema, Ralston Purina, The Washington Post Company, Berkshire Hathaway). In this book, you'll learn the consistent and rational traits that helped these select leaders achieve that exceptional performance. Humble, unassuming, and often frugal, these "outsiders" shunned Wall Street and the press and shied away from hot management trends. Instead, they honed specific (and less sexy) characteristics including: a laser-sharp focus on per share value rather than sales or earnings an exceptional talent for allocating capital and human resources the belief that cash flow, not reported earnings, determines a company's long-term value a penchant for giving local managers autonomy to release entrepreneurial energy Drawing on extensive research, Will Thorndike tells many of these leaders' stories for the first time--and extracts lessons for those of you hoping to lead your company to exceptional returns today.