Perpetrators The World of the Holocaust Killers
, by
Lewy, Guenter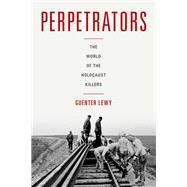 Note: Supplemental materials are not guaranteed with Rental or Used book purchases.
ISBN: 9780190661137 | 0190661135
Cover: Hardcover
Copyright: 8/1/2017
"Monsters exist, but they are too few in number to be truly dangerous. More dangerous are the common men, the functionaries ready to believe and to act without asking questions." Primo Levi's words disclose a chilling truth: assigning blame to hideous political leaders, such as Hitler,
Himmler, and Heydrich, is necessary but not sufficient to explain how the Holocaust could have happened. These leaders, in fact, relied on many thousands of ordinary men and women who made the Nazi machine work on a daily basis--members of the killing squads, guards accompanying the trains to the
extermination camps, civilian employees of the SS, the drivers of gas trucks, and the personnel of death factories such as Auschwitz. Why did these ordinary people collaborate and willingly become mass murderers? In Perpetrators: The World of the Holocaust Killers, Guenter Lewy tries to answer one
of history's most disturbing questions.

Lewy draws on a wealth of previously untapped sources, including letters and diaries of soldiers who served in Russia, the recollections of Jewish survivors, archival documents, and most importantly, the trial records of hundreds of Nazi functionaries. The result is a ghastly, extraordinarily
detailed portrait of the Holocaust perpetrators, their mindset, and the motivations for their actions.

Combining a rigorous historical analysis with psychological insight, the book explores the dynamics of participation in large-scale atrocities, offering a thought-provoking and timely reflection on individual responsibility for collective crimes. Lewy concludes that the perpetrators acted out of a
variety of motives--a sense of duty, obedience to authority, thirst for career, and a blind faith in anti-Semitic ideology, among others. A witness to the 1938 Kristallnacht himself and the son of a concentration camp survivor, Lewy has searched for the reasons of the Holocaust out of far more than
theoretical interest: it is a passionate attempt to illuminate a dismal chapter of his life--and of human history--that cannot be forgotten.