The Power of Critical Thinking Effective Reasoning About Ordinary and Extraordinary Claims
, by
Vaughn, Lewis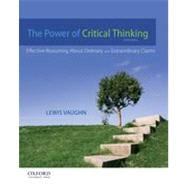 Note: Supplemental materials are not guaranteed with Rental or Used book purchases.
ISBN: 9780199856671 | 0199856672
Cover: Paperback
Copyright: 8/31/2012
The Power of Critical Thinking: Effective Reasoning About Ordinary and Extraordinary Claimsexplores the essentials of critical reasoning, argumentation, logic, and argumentative essay writing while also incorporating important topics that most other texts leave out, such as "inference to the best explanation," scientific reasoning, evidence and authority, visual reasoning, and obstacles to critical thinking. The text integrates many pedagogical features, including hundreds of diverse exercises, examples, and illustrations; text boxes that apply critical thinking to student experience; step-by-step guidelines for evaluating claims, arguments, and explanations; a glossary of important terms; and many reminders, summaries, and review notes. NEW TO THIS EDITION: * Nine new "Essays for Analysis," arranged in a pro/con format, on current, compelling topics including homosexuality, feminists and pornography, adultery, airport security screenings, women in Afghanistan, Islamic extremists and free speech, and fear of vaccines * New discussions of legal reasoning, rhetorical ploys, informal fallacies, probability and statistics, and necessary and sufficient conditions * New text boxes on the straw man fallacy, biased opinion polls, dishonest political discourse, and gut reactions and intuitions * Clearer discussions of scientific conservatism in theory choice, the relationship between enumerative induction and statistical syllogisms, and informal fallacies SUPPORT PACKAGE: The text is supplemented by anInstructor's Manual and Test Bank in print and an Instructor's Manual with Computerized Test Bank on CD.The Computerized Test Bank is a completely customizable bank of questions to aid in the creation of exams and quizzes. Both versions of the Instructor's Manual feature notes on using the text effectively, sample syllabi, links to websites of interest, lectures in PowerPoint format, chapter summaries, and answers to the exercises in the text. ACompanion Website at www.oup.com/us/criticalthinkingincludes all of the information found in the Instructor's Manual. It also offers a student study guide featuring a summary of the main points of each chapter, study questions, short review quizzes, flashcards, web links, and additional chapter exercises. Course Cartridgesfor a variety of e-learning environments allow instructors to create their own course websites with the interactive material from the instructor and student companion websites.