Public Opinion in the United States: Studies of Race, Religion, Gender, and Issues That Matter
, by
Simon,Rita J.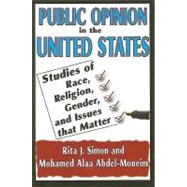 Note: Supplemental materials are not guaranteed with Rental or Used book purchases.
ISBN: 9781412811576 | 1412811570
Cover: Hardcover
Copyright: 1/15/2010
Public Opinion in the United States tracks developmentsin American society since World War II through the lensof public opinion. The authors assess national public opinionpoll data from 1945 to 2008, targeting opinions aboutAfrican Americans, Jews, Muslim Americans, gays andlesbians, immigration, abortion, and affirmative action.The authors consider whether American attitudes havedeveloped faster than Supreme Court decisions in the areassurveyed. They assess how social change is processedby the public, how people responded to the race riots ofthe 1950s and 1960s, and how the war in Vietnam shapednew perspectives on issues such as race, citizenship rights,and the role of the individual. Each chapter begins byintroducing the political, social, or international eventsthat were critical in setting the stage for influencing publicopinion in each decade since World War II.The volume provides a unique portrait of Americansociety and how it has changed over the last sixty plusyears. The reader will learn whether Americans are moreor less prejudiced against blacks, Jews, and Muslims thanthey were in earlier years; whether their views on immigration,affirmative action, and abortion have changed;and when views have changed, in what direction. Domen and women, rich and poor, more and less educated,secular versus religious share the same views? And if thereare differences, what directions do those differences take?Th is work describes American society in 2008 comparedto the post-World War II era, and it offers stunningglimpses at the future.