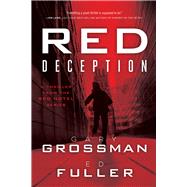 Note: Supplemental materials are not guaranteed with Rental or Used book purchases.
ISBN: 9780825310409 | 0825310407
Cover: Paperback
Copyright: 9/12/2023
Intelligence experts and thriller authors concur: Red Deception is "A page-turner by authors who might as well sit on the National Security Council."

When terrorists bomb bridges across the country and threaten the Hoover Dam, the vulnerability of America's infrastructure becomes a matter of national security. But Dan Reilly, a former Army intelligence officer, predicted the attacks in a secret State Department report written years earlier—a virtual blueprint for disaster, somehow leaked and now in the hands of foreign operatives.

With Washington distracted by domestic crises, Russian President Nicolai Gorshkov sends troops to the borders of Ukraine and Latvia, ready to reclaim what he feels is Russia's rightful territory. Tensions in Europe threaten to boil over as a besieged American president balances multiple crises that threaten to upend the geopolitical order.

This is the chaos into which Reilly leaps headfirst. Reilly's position as Global Head of Security for the Kensington Royal Hotel Corporation means he must keep his customers and staff safe as the crisis envelopes countries across three continents. His past as a State Department analyst means he recognizes the connections behind the seemingly disparate terror attacks, assassination plots, and authoritarian power plays that dominate the headlines. But it's the very knowledge that makes him good at his job that also makes him a target—to the press, to the government, and to the forces gathering for another assault on America.

Follow Reilly as he travels the world to safeguard both his company's assets and his country's secrets. With the U.S. at the mercy of an egomaniacal leader, and reporters and covert agents on his tail, he may be the one man who can connect the dots before an even bigger catastrophe unfolds.

Red Deception is the second book in the Red Hotel series.