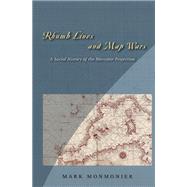 Note: Supplemental materials are not guaranteed with Rental or Used book purchases.
ISBN: 9780226534312 | 0226534316
Cover: Hardcover
Copyright: 10/1/2004
InRhumb Lines and Map Wars, Mark Monmonier offers an insightful, richly illustrated account of the controversies surrounding Flemish cartographer Gerard Mercator's legacy. He takes us back to 1569, when Mercator announced a clever method of portraying the earth on a flat surface, creating the first projection to take into account the earth's roundness. As Monmonier shows, mariners benefited most from Mercator's projection, which allowed for easy navigation of the high seas with rhumb linesclear-cut routes with a constant compass bearingfor true direction. But the projection's popularity among nineteenth-century sailors led to its overuseoften in inappropriate, non-navigational waysfor wall maps, world atlases, and geopolitical propaganda.Because it distorts the proportionate size of countries, the Mercator map was criticized for inflating Europe and North America in a promotion of colonialism. In 1974, German historian Arno Peters proffered his own map, on which countries were ostensibly drawn in true proportion to one another. In the ensuing "map wars" of the 1970s and 1980s, these dueling projections vied for public supportwith varying degrees of success.Widely acclaimed for his accessible, intelligent books on maps and mapping, Monmonier here examines the uses and limitations of one of cartography's most significant innovations. With informed skepticism, he offers insightful interpretations of why well-intentioned clerics and development advocates rallied around the Peters projection, which flagrantly distorted the shape of Third World nations; why journalists covering the controversy ignored alternative world maps and other key issues; and how a few postmodern writers defended the Peters worldview with a self-serving overstatement of the power of maps.Rhumb Lines and Map Warsis vintage Monmonier: historically rich, beautifully written, and fully engaged with the issues of our time.