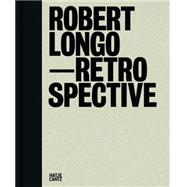 Note: Supplemental materials are not guaranteed with Rental or Used book purchases.
ISBN: 9783775731966 | 3775731962
Cover: Hardcover
Copyright: 8/31/2012
Robert Longo's mastery of charcoal drawing has made him one of America's most admired artists. With every new work he reinvests the tradition of history painting with fresh relevance and impact, rendering majestic, era-defining images in a sensuous and sculptural photorealism. Longo's sense of both literal scale and historical scope is monumental, as a survey of his numerous serial works soon reveals: the Freud Drawingscycle of 2000 with its large-format treatment of Edmund Engelmann's photographs of Sigmund Freud's Vienna apartment, taken days before Freud's departure for London; or the 2003 Sickness of Reasonseries, with its high-contrast images of atomic explosions, combining sublimity and terror; or the famous one-drawing-per-day Magellansequence of the mid-1990s, a virtual atlas of the iconography of the 1990s, intermixed with images from Longo's immediate daily life. This handsome, chunky volume surveys Longo's drawings of the past two decades, from Magellanand the Freudcycle to Monsters(2000), Sickness of Reason(2003), Ophelia(2002), Beginning of the World(2007) and others. Robert Longowas born in Brooklyn in 1953 and received a BFA in sculpture from Buffalo State College in 1975. In the late 1970s and early 1980s, Longo collaborated with musicians loosely associated with New York's No Wave movement, such as Glenn Branca, Rhys Chatham and Jonathan Kane, and formed the band Robert Longo's Menthol Wars. In the 1980s, as his Men in the Citydrawing series was winning him critical acclaim, Longo also directed several music videos, including New Order's "Bizarre Love Triangle" and R.E.M.'s "The One I Love." In 1995 he directed the cyberpunk film Johnny Mnemonic, starring Keanu Reeves, Dolph Lundgren and "Beat" Takeshi.