Russia in Revolution An Empire in Crisis, 1890 to 1928
, by
Smith, S. A.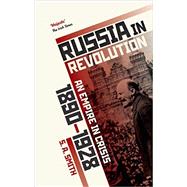 Note: Supplemental materials are not guaranteed with Rental or Used book purchases.
ISBN: 9780198734833 | 0198734832
Cover: Paperback
Copyright: 9/12/2018
The Russian Revolution of 1917 transformed the face of the Russian empire, politically, economically, socially, and culturally, and also profoundly affected the course of world history for the rest of the twentieth century. Now, to mark the centenary of this epochal event, historian Steve
Smith presents a panoramic account of the history of the Russian empire, from the last years of the nineteenth century to the end of the 1920s when Stalin unleashed violent collectivization of agriculture and crash industrialization upon Russian society.

Drawing on recent archival scholarship, Russia in Revolution pays particular attention to the varying impact of the Revolution on different social groups including peasants, workers, non-Russian nationals, the army, women, young people, and the Church. The book provides a fresh approach toward the
big, perennial questions about the Revolution and its consequences. Why did the tsarist government's attempt to implement political reform after the 1905 Revolution fail? Why did the First World War bring about the collapse of the tsarist system? Why did the attempt to create a democratic system
after the February Revolution of 1917 never get off the ground? Why did the Bolsheviks succeeded in seizing power? Why did Stalin come out on top in the power struggle inside the Bolshevik party after Lenin's death in 1924?

A final chapter reflects on the larger significance of 1917 for the history of the twentieth century and, for all its terrible flaws, what the promise of the Revolution might mean for us today.