Sell or Be Sold : How to Get Your Way in Business and in Life
, by
Cardone, Grant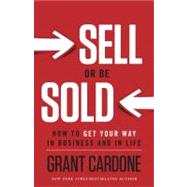 Note: Supplemental materials are not guaranteed with Rental or Used book purchases.
ISBN: 9780615399249 | 061539924X
Cover: Hardcover
Copyright: 3/1/2012
"Grant Cardone has taken a word that most people don't like, Selling,and made it one of the most appealing objectives of everyday living."Todd M. Duncan - New York Times Best Selling Author The ability tosell others is as critical to your success as food, water and oxygenis to life. While you may think that an exaggeration, every person onthis planet is required to sell others on their ideas to advancethemselves and their goals. The skill of selling is a MUST forpromoting yourself, your business and your ideas. While many thinkthat if they do a better job and work hard they will get raises andpromotions. The facts prove otherwise though, as the only people thatare getting promoted in life are those that are able to mostsuccessfully sell their ideas to others. It is said that the numberone reason a business fails is a shortage of capital, but the realityis that business fails because of the inability to sell ideas,products and services to the public in quantities great enough toinsure its success. While this book will be read by millions ofcareer sales people it is written for those that do not considerthemselves sales people but who want to achieve more success in theirlife. This book is about how to get more done in your life throughselling and to show the reader how success is impossible withoutunderstanding the concepts of selling. You will be introduced toincredibly simple ways to sell any product or idea to anyone at anytime. You will learn how to get others to "buy in " and agree withyour ideas and get behind you and help you. You will learn strategiesthat will insure you are successful in life and show you exactly howto get to where you want to go. You will know how to eliminateconfrontation and end disagreements with just words and yourattitude. You will be shown what the "greats" do to be persuasive,the only reason people don't like sales, how to predict what otherswill do and say, how to build trust, how to separate yourself fromthe average, why your prospect gets weird around money, how to "hardsell" without using pressure, the two single most important steps tosuccess in sales and much much more. This is a fresh look at sellingand how to use this forgotten art in a respectful, ethical way to geteverything you want in life.