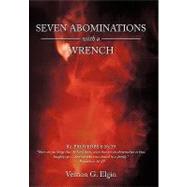 Note: Supplemental materials are not guaranteed with Rental or Used book purchases.
ISBN: 9781452025117 | 1452025118
Cover: Hardcover
Copyright: 8/10/2010
SEVEN ABOMINATIONS WITH A WRENCH interprets and comments on PROVERBS 6:16-19. The Biblical Book itself begins, "The proverbs of Solomon son of David, King of Israel." Verse Sixteen reads, "There are six things that the Lord hates, seven that are an abomination to him." The things begin with "haughty eyes," and conclude with, "one who sows discord in a family." The other five abominations are: "a lying tongue, and hands that shed innocent blood, a heart that devises wicked plans, feet that hurry to run to evil, (and) a lying witness who testifies falsely." Jesus introduced his own parallel list of seven defilements. They closely match Solomon's abominations. However, Jesus dealt more with the wrench the abominations causes, than the abomination itself. SEVEN ABOMINATIONS WITH A WRENCH analyzes the abominations from a Biblical/ theological perspective. The Book attaches a list of "Discussion Questions."