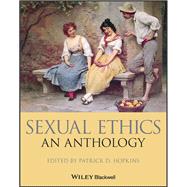 Note: Supplemental materials are not guaranteed with Rental or Used book purchases.
ISBN: 9781118615867 | 1118615867
Cover: Paperback
Copyright: 2/1/2023
An accessible and engaging anthology of readings focused specifically on applied ethics issues of sexual morality
Sexual Ethics: An Anthology addresses conceptual, ethical, and public policy issues about sex, providing a balanced and non-sectarian discussion of many of today's most important and controversial moral topics. Covering a broad range of contemporary sexual ethics issues, this easily accessible textbook includes explications and point/counterpoint pieces on the definition of sex and sexual orientation, sexual harassment and rape law, sexual discrimination, age of consent, marriage and adultery, online affairs, gay marriage, polygamy and polyamory, sexual orientation change therapy, transgender and sex reassignment surgery, intersexed infants and surgery, pornography, prostitution, psychiatric classifications of sexuality disorders, and specific paraphilias. Organized around six broad themes—Consent, Marriage, Homosexuality, Transgender, Commerce, and Paraphilias—Sexual Ethics presents multiple sides of each issue, offering diverse perspectives on critical topics, supported by relevant philosophical arguments, position papers, psychological studies, government regulations, and court rulings.
Sexual Ethics is particularly designed to provide a ready-made course in sexual ethics, with several major elements ideally suited for classroom instructors and students:
Includes an introductory chapter on key definitional, conceptual, and theoretical issues
Features "Framing Questions" for each section that address a major moral or policy issue and highlights the pro/con nature of the readings (e.g., How should we define rape? Should pornography be protected as free speech?)
Features a short summary at the beginning of each reading, including the topic, major points, and conclusion, very helpful for instructor planning
Features 15 "Discussion Starters" that help students start thinking critically and talking about sexual ethics before doing any reading
Features 45 brief "Decision Cases" drawn from major media stories especially relevant to the college student context, including college virginity, male rape, child pornography on television, college sexual harassment, faux-bisexuality, fraternity party sex, transgender inclusion, race and sex, asexuality, bromances, campus pride groups, fetishes and kink, online sex, Title IX mandatory reporting, transgender sports competition, religious diversity and sex, sex education, feminists working at sexually exploitative jobs, cancel culture, and robot sex. These cases are ideal for class discussion, class presentations, and research paper topics.
Sexual Ethics: An Anthology is an excellent textbook for undergraduate classes in applied ethics, sexual ethics, and gender studies, as well as related courses in sociology, public policy, marriage and family law, and social work.