Social and Political Transformation in Iran Since 1979 The Role of Islam
, by
Alam, Dr. ShaH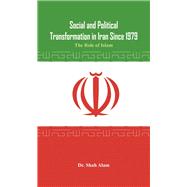 Note: Supplemental materials are not guaranteed with Rental or Used book purchases.
ISBN: 9789384464745 | 9384464740
Cover: Hardcover
Copyright: 7/7/2015
The Revolution 1979 was a long process of political socialization that completely transformed Iran's outlook. Iran's social, political, and economic spheres abruptly changed due to the revolution. It traces genesis of the revolution and how Islam an ideology played dominant role in bringing revolution and shaping the post-revolution Iran. The Revolution 1979 replaced monarchy with clerics-rule and religion coalesced with politics. A new political culture emerged under influence of religion that swayed political process. The emergence of a new political culture in the post-Shah period influenced political process which gave birth to a new political system. Ayatollah Khomeini became the Velayat-e Faqih (Supreme Leader) in the post-Shah period since he led the revolution. The concept of Velayat-e Faqih is derived from the Imamate system. The Velayat-e Faqih is the most powerful and dominant institution in Iran and whole Iranian system revolve around it, and all institutions derive their legitimacy from it. Iran's society is transformed along Islamic line and major changes are introduced in social aspects. Educational system and women affairs have received major changes, and restrictions are enhanced over mass-media and social activities. Iran's economy has also come under religious influence and witnessed creation of the Islamic banks and other institutions to manage Iranian economy. It is noteworthy that leaders and political forces were divided over policy issues in the post-Revolution Iran which still continue. The Revolution 1979 has left indelible impression on Iran's society, polity, and economy and Islam will remain as an ideology in determining the country's behavior despite divisions within political forces.