Soul of a Citizen Living with Conviction in Challenging Times
, by
Loeb, Paul Rogat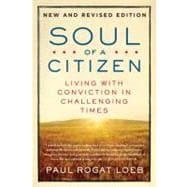 Note: Supplemental materials are not guaranteed with Rental or Used book purchases.
ISBN: 9780312595371 | 0312595379
Cover: Paperback
Copyright: 3/30/2010
Soul of a Citizen has become the handbook for budding social activists, veteran organizers, and anybody who wants to make a change big or small in the world around them. At this critical historical time, Paul Loeb's completely revised edition and inspiring message is more urgently important than ever.
Paul Rogat Loeb, an associated scholar at Seattle's Center for Ethical Leadership, has written on social involvement for The New York Times, The Washington Post, The Los Angeles Times, Psychology Today, Utne Reader, Redbook, Parents, The Christian Science Monitor, Mother Jones, Salon.com, The Village Voice, National Catholic Reporter, and the International Herald Tribune. He has been interviewed on CNN, NPR, PBS, C-SPAN, NBC, the BBC, and national German, Canadian, and Australian radio, and has lectured on over 200 college campuses. Loeb is also the author of Generation at the Crossroads: Apathy and Action on the American Campus, Nuclear Culture, and Hope in Hard Times.
How do we challenge our culture's pervasive cynicism? Paul Loeb presents an alternative vision of hope and courage in Soul of a Citizen. Based on thirty years of studying the psychology of social involvement, Loeb describes how ordinary citizens can make their voices heard and their actions count in a time when we're often told neither matter.
Soul of a Citizen explores what leads some people to get involved in larger community issues while others feel overwhelmed or uncertain; what it takes to maintain commitment for the long haul; and how involvement can give back a sense of connection and purpose rare in purely personal life.
Writing in an engaging and evocative style, Loeb offers profound lessons: "Our efforts can do more for ourselves and for the world than we may ever imagine. We don't have to become saints or wait for the perfect situation to take action. Change happens little by little, step by step. We can savor the journey of engagement, even though our ultimate destination is unclear. The impact of our efforts will often ripple outward in ways we cannot predict."
At the heart of Soul of a Citizen are profiles of a broad range of people who have learned these lessons. They include: A Maine housewife helps lead a path-breaking campaign finance reform initiative "so my kids won't grow up in a cynical world."A Seattle environmental activist celebrates her hundredth birthday, still passionately involved. "You do what you can," she says. "Then you do some more." A fisherman forges new links between environmentalists, fishermen and Native American tribes to restore Pacific salmon habitat. "It's draining to convince yourself you're powerless and swallow whatever's handed to you," he says. "You get a lot back when you work with a good group of people to take a stand."An African American man serves seventeen years in the California prison system, then initiates a pioneering drug rehabilitation effort to give people "the support they need, in a language they can understand."An eighth-grade dropout joins a community group in her San Antonio barrio, helps design an innovative job program and eventually testifies before the U.S. Senate. "The group found some spark in me," she recalls. "I never knew I had it."
Soul of a Citizen is a highly personable story of integrity and commitment, a testament to our often-unrealized ability to lead lives worthy of our convictions.