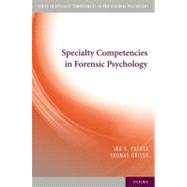 Note: Supplemental materials are not guaranteed with Rental or Used book purchases.
ISBN: 9780195390834 | 0195390830
Cover: Paperback
Copyright: 4/28/2011
Although Forensic Psychology was formally recognized as a specialty by the American Board of Professional Psychology in 1985 and by the American Psychological Association's Commission for the Recognition of Specialties and Proficiencies in Professional Psychology in 2001, its origins can be traced back to early applications of psychology to law during the time psychology was being differentiated from the more general field of philosophy. As it is currently applied, the specialty took organizational shape from the 1960's to the 1990's, and today forensic psychology is one of the most popular areas of specialization among emerging psychologists. The demand for forensic training, continuing education, and research is growing in many graduate level professional programs and at events sponsored by the American Psychology-Law Division (41) of APA or the American Academy of Forensic Psychology. Therefore, the need for a comprehensive text focused on the competencies required in the specialty has never been greater. With Specialty Competencies in Forensic Psychology, Drs. Packer and Grisso provide a guide to understanding legal systems, evaluations, and consultations encountered in day-to-day forensic practice that is simultaneously sophisticated, scholarly, and user-friendly. This is a must-read for all those interested in pursuing the forensic specialty practice. Series in Specialty Competencies in Professional Psychology Series Editors Arthur M. Nezu and Christine Maguth Nezu As the field of psychology continues to grow and new specialty areas emerge and achieve recognition, it has become increasingly important to define the standards of professional specialty practice. Developed and conceived in response to this need for practical guidelines, this series presents methods, strategies, and techniques for conducting day-to-day practice in any given psychology specialty. The topical volumes address best practices across the functional and foundational competencies that characterize the various psychology specialties, including clinical psychology, cognitive and behavioral psychology, school psychology, geropsychology, forensic psychology, clinical neuropsychology, couples and family psychology, and more. Functional competencies include common practice activities like assessment and intervention, while foundational competencies represent core knowledge areas such as ethical and legal issues, cultural diversity, and professional identification. In addition to describing these competencies, each volume provides a definition, description, and development timeline of a particular specialty, including its essential and characteristic pattern of activities, as well as its distinctive and unique features. Written by recognized experts in their respective fields, volumes are comprehensive, up-to-date, and accessible. These volumes offer invaluable guidance to not only practicing mental health professionals, but those training for specialty practice as well.