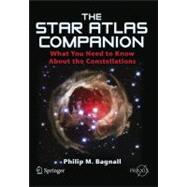 Note: Supplemental materials are not guaranteed with Rental or Used book purchases.
ISBN: 9781461408291 | 1461408296
Cover: Paperback
Copyright: 4/19/2012
Your Companion Guide to Star Atlases begins by explaining how the book is structured and how the constellations are presented. It also looks at a number of potentially controversial issues, such as what we mean by "color" and uncertainties concerning measurement size, distance, and velocity. It then explains stellar classification.Following a few pages of finder charts, each constellation is presented alphabetically and includes notes about selected naked-eye stars in the constellation, including proven and suspected extra solar planetary systems but not galaxies and nebulae. Diagrams show the constellations as seen from Earth, together with "side views" (to show the distances to each star). Additional diagrams show how the constellation will look from Earth in AD 27,000. Information such as the apparent and absolute magnitudes of the stars are included. Nearly all observers and armchair astronomers are familiar with these concepts, but they do not usually appreciate how different a constellation would look in terms of absolute magnitude.The size of each star in the constellation is compared in a diagram to our Sun. Each star's distance is given in light years, and the radial velocity of the star, either away from or towards us, is shown. The spectral classification for each star is given. It is generally believed that G, K, and M stars are likely to display "sunspots," and diagrams depicting these features are included. Some constellations also include diagrams that highlight a particularly interesting feature or relationship.