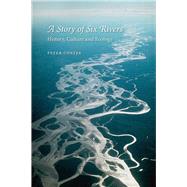 Note: Supplemental materials are not guaranteed with Rental or Used book purchases.
ISBN: 9781780231068 | 1780231067
Cover: Hardcover
Copyright: 4/15/2013
Many of the world's major cities sprang up on the banks of rivers. Used for water, food, irrigation, transportation, and power, rivers sustain life and connect the world together, but for most of us, we think of them simply as waterways that must be crossed on the way to another place. Using four European and two North American rivers as examples, A Story of Six Riversconsiders the place of rivers in our world and emphasizes the inextricable links between history, culture, and ecology. Peter Coates explores six rivers, chosen as examples of the types of rivers found on the planet: the Danube, the second-longest river in Europe; the Spree, which flows through Berlin; the Po, which cuts eastward across northern Italy; the Mersey in northwest Engl∧ the Yukon, which runs through Canada and Alaska; and the Los Angeles in California. Creating a series of river biographies, Coates gives voice to each of these bodies of water, exploring how rivers nurture us, provide cultural and economic opportunities, and pose threats to our everyday lives. He challenges recent narratives that paint rivers as the victims of abuse, pollution, and damage at the hands of humans, focusing on change rather than devastation. Describing how humans and rivers form a symbiotic-and sometimes mutually destructive-relationship, Coates argues that rivers illustrate the limits of human authority and that their capacity to inspire us is as strong as our ability to pollute them. An intimate portrait of the way these bodies of water inform our lives, A Story of Six Riverswill make us reconsider the streams and tributaries we traverse each day.