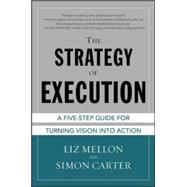 Note: Supplemental materials are not guaranteed with Rental or Used book purchases.
ISBN: 9780071815314 | 0071815317
Cover: Hardcover
Copyright: 11/26/2013
YOU HAVE A BRILLIANT NEW STRATEGY. NOW IT'S TIME TO EXECUTE.
Businesses spend a combined total of $47 billion annually on strategy consulting. Approximately 90 percent of strategic change initiatives fail to deliver the intended results.
Something isn't adding up.
As companies all over the world concentrate on revisiting, revising, and remaking their strategies, they forget the next step: making sure the strategy happens. So it turns out that billions of dollars are spent on brilliant ideas--but not brilliant results.
In this groundbreaking book, business strategy experts Liz Mellon and Simon Carter provide a solution: THE STRATEGY OF EXECUTION. The authors break down the process of ensuring that your new strategy translates into measurable profits and growth into five fundamental and profoundly important steps:
MOBILIZE THE VILLAGE: Get your senior executives to embrace the new strategy and actively engage with it.
GATHER THE ELDERS: Build a small team of the very highest figures in the corporation to lead strategic change.
POWER UP FEELING: Don't overthink it; trust your instincts as much as your intellect.
ENERGIZE PEOPLE: Create a culture of communication, ownership, and followthrough of strategic objectives.
BUILD ENDURANCE: Drive individual and organizational resilience to play the long game and hardwire change throughout systems and organizational structures to maintain momentum.
In the final chapter, the authors illustrate their process in action through a detailed case study of BPB PLC--a century-old building material company that applied these five steps to make extraordinary strategic change happen.
You can lead positive change in your company. A strategy is just words on paper until it's executed with care and smarts. Use The Strategy of Execution as a blueprint for long-term business success.
There are a lot of smart people coming up with innovative business strategies today. Very few of them, however, are executing them. The gap between strategy and execution has never been wider. The Strategy of Execution provides a practical approach to the work that must be done after a business strategy is agreed upon.
"This is a highly readable guide to one of the most under-researched areas of strategy; execution. Strategists have always had more solutions than there are problems, but the issue of what to do when they leave the building has not been satisfactorily addressed. Liz Mellon and Simon Carter have put together a clear framework for execution illustrated with countless examples. Industry leaders are called 'executives' for a reason. This crisp and accessible book should be their mandatory reading." -- PAUL WILLMAN, Professor of Management, London School of Economics
"This is a clearly written and very readable book, with key insights into the challenges of implementing a strategy and good examples from individuals and organizations that have brought about successful change." -- ANDREW HOBDAY, Chief Sustainability Officer, Mars Incorporated
"One aspect of leadership that has always puzzled me is how a leader directs change for the good of the organization and the people. Too often, when a leader talks about change, employees expect the worst. This insightful book lays out a step-by-step guide on how to execute a strategy with warmth and conviction, bringing people with you rather than dragging them, fearful, behind you." -- KEVIN KELLY, former CEO, Heidrick & Struggles