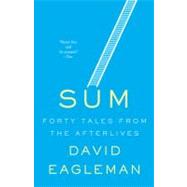 Note: Supplemental materials are not guaranteed with Rental or Used book purchases.
ISBN: 9780307389930 | 0307389936
Cover: Paperback
Copyright: 1/12/2010
At once funny, wistful and unsettling, Sum is a dazzling exploration of unexpected afterlives each presented as a vignette that offers a stunning lens through which to see ourselves in the here and now. In one afterlife, you may find that God is the size of a microbe and unaware of your existence. In another version, you work as a background character in other people's dreams. Or you may find that God is a married couple, or that the universe is running backward, or that you are forced to live out your afterlife with annoying versions of who you could have been. With a probing imagination and deep understanding of the human condition, acclaimed neuroscientist David Eagleman offers wonderfully imagined tales that shine a brilliant light on the here and now.
"Eagleman is a true original. Read Sum and be amazed."-Time Magazine
"You will not read a more dazzling book this year than David Eagleman's Sum. If you read it and aren't enchanted I will eat 40 hats." -Stephen Fry
"Delightful, thought-provoking full of touching moments and glorious wit."-Alexander McCall Smith, The New York Times Book Review
"Bracing, provocative, fun It challenges and teases as it spins out different parables of possibility."-Houston Chronicle
"This is a scientist and exceptionally talented writer using the idea of the afterlife to reflect on our innermost fears and desires and also as a way of dissecting how we live." -Tampa Tribune
"This delightful, thought-provoking little collection belongs to that category of strange, unclassifiable books that will haunt the reader long after the last page has been turned. It is full of tangential insights into the human condition and poetic thought experiments It is also full of touching moments and glorious wit of the sort one only hopes will be in copious supply on the other side."-The New York Times
"Teeming, writhing with imagination."-Los Angeles Times
"David Eagleman's Sum envisions a multiplicity of afterlives: pasts relived in shuffle mode, cast in the dreams of others, and dictated by our credit card reports."-Vanity Fair
"Imaginative and inventive." -Wall Street Journal
"It takes someone ridiculously smart to write something as deceptively simple as SUM." -Denver Daily News
"With both a childlike sense of wonder and a trenchant flair for irony, the Baylor College of Medicine neuroscientist generously offers forty variations on the theme of God and the afterlife, imagining what each of us might find when we shuffle off this mortal coil." -Texas Monthly