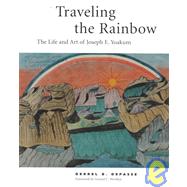 Note: Supplemental materials are not guaranteed with Rental or Used book purchases.
ISBN: 9781578063116 | 1578063116
Cover: Hardcover
Copyright: 1/1/2001
The first full-length celebration of an African American and Native American self-taught master's landscapes and travelsInThe New York Times, Wendy Steiner named Joseph E. Yoakum (1890-1972) one of the six masters among American outsider artists. John Perreault wrote inThe Village Voice, "The discovery of an authentic 'naive' artist such as Yoakum does not happen very often so it is cause for some celebration."With 50 color and 145 black-and-white reproductions,Traveling the Rainbow: The Life and Art of Joseph E. Yoakumis a fitting tribute to this fascinating creator of visionary landscapes.Despite the initial excitement of his discovery, relatively little was known of the life of this artist. What emerges inTraveling the Rainbowfits an adventure novel. Yoakum traveled the oceans on steamliners working in their boiler rooms. He rode America's railways as an inspector. With an elite team of African American troops in World War I, he toured Europe. On the road with the Ringling Brothers Circus he posted circus flyers. He spent a year in a psychiatric hospital.Late in his life he created majestic, animated landscapes infused with the motion and energy of travel. Part African American, part Native American, Yoakum drew on his dual background and conjured powerful forms of expression -- the blues and Native American symbolism -- to create dynamic cultural fusions.Traveling the Rainbowcorrects major biographical errors published in numerous artist anthologies and exhibition catalogues. Much of what he told about his life -- especially about his travels -- was thought to be invented, but Derrel DePasse makes startling discoveries about the artist's landscapes and finds that much of his story of himself was grounded in fact.Intimate and panoramic, Yoakum's water-color and pencil drawings are compared to the work of artists as diverse as William Blake and Thomas Moran. His life spanned the golden epochs of the American railroad, the traveling circus, and the unique American musical idiom known as the blues. This book reveals how the artist recorded his memories of these both in his landscapes, as well as in a small number of distinctive portraits of prominent African Americans.Derrel B. DePasse is president of the Blauvelt Group. She is a contributing author toSelf-Taught Artists of the Twentieth Century: An American Anthology(Museum of American Folk Art/Chronicle Books, 1998).