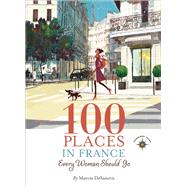 Note: Supplemental materials are not guaranteed with Rental or Used book purchases.
ISBN: 9781609520823 | 1609520823
Cover: Paperback
Copyright: 11/11/2014
Whether a die-hard Francophile or suffering a serious case of wanderlust, 100 Places in France Every Woman Should Go encourages women to discover a special side of France dedicated to the feminine. Author and Wanderlust Tours owner Shawnie Kelley Foy draws on two decades of traveling, living, and conducting tours in France. In this book, she leads ladies through the sparkling City of Light, along the sultry Cote d'Azur, and through the rugged mountains in search of la France feminine. Each of the thirteen categories with its 100 entries captures France's various personalities. Included here are eight of Europe's top 25 most-visited attractions, such as Notre Dame Cathedral and the Eiffel Tower, but many of Foy's suggestions steer women well off the beaten path. Make a rigorous trek to one of the Cathar Castles precariously perched in the Pyrenees, or tap into "Sacred Feminine France" with a pilgrimage to Saintes-Maries-de-la-Mer. Discover "History Buff's France" by following in the footsteps of Joan of Arc, or quench your thirst for travel and wine with a tour to any one of the nine regions suggested in "Eau de Vie." If you choose to munch macarons in the Marais or chow cassoulet in Carcassone, an authentic taste of France can be found in every corner of the country as seen in "Foodie France." For those who prefer to travel from the comfort of an armchair, Foy weaves a femme-focused narrative of amusing anecdotes, ancient legends, and scandalous stories into each chapter; transporting readers to sunny Mediterranean climes, crowded flower markets, and medieval villages. As a lifelong Francophile, Foy uses her personal and professional travel expertise, combined with insights from a diverse range of women, to offer up practicalities to women traveling solo, with a companion, or in a group. Helpful suggestions are made for eating, drinking, and sleeping, as well as relevant books, blogs, and online resources. From sexy to sublime, feminine to flamboyant, romantic to rowdy, Foy proves the allure of France for women goes well beyond the pursuits of food, fashion, and romance.