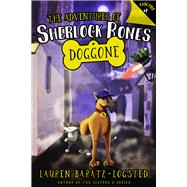 Note: Supplemental materials are not guaranteed with Rental or Used book purchases.
ISBN: 9781945107306 | 1945107308
Cover: Hardcover
Copyright: 2/21/2017
The Adventures of Sherlock Bones turns snooping on its floppy ear when one day, Dr. Jane Catson, a surgeon injured in the Cat Wars has an afternoon nap interrupted by a most unusual occurrence.

On the front lawn of her home, rather loud footsteps disturb her peace as Sherlock Bones, a Great Dane in a deerstalker claiming to be the greatest detective in the world arrives.

After a quick critical examination of the intrusive dog whose enormous body blocks the entire sun from view, Catson has her doubts. But that's not all. The monstrously-sized creature makes an even more astonishing claim. He has come to live with her!

Before Catson can collect her thoughts into an intelligent rebuttal, Sherlock Bones has made himself quite at home, inventing things like a jetpack for her Castilian housekeeper-cook, a turtle named Mr. Javier and placing his gigantic food and water dishes next to hers.

But there's no time for protest. The great detective and Dr. Catson have caught themselves their first case: A suspiciously dead human in a nearby abandoned building. Can Sherlock Bones and Dr. Catson crack the case before the killer strikes again? Or will their differences get in the way of solving Case File No. 1? One thing's for sure, that would be a doggone shame.