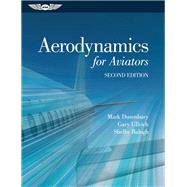 Note: Supplemental materials are not guaranteed with Rental or Used book purchases.
ISBN: 9781619543331 | 1619543338
Cover: Hardcover
Copyright: 8/9/2016
Aerodynamics is the study of forces and the resulting motion of objects through the air. Judging from the story of Daedalus and Icarus, humans have been interested in aerodynamics and flying for thousands of years, although flying in a heavier-than-air machine has been possible only in the last hundred years. However, the pilot of today must have a greater technical knowledge and understanding than the pilot of even 15 years ago, with today's multimillion-dollar, highly complex aircraft with many more systems and aerodynamic problems than their predecessors. To operate today's aircraft, a pilot must have more than just a basic knowledge of principles of flight.

Aerodynamics for Aviators is written specifically for pilots, by pilots, and its purpose is to present the basic fundamentals of aerodynamics, communicated at the "pilot level." The safety and effectiveness of flying operations depends greatly on the understanding and appreciation of how and why an airplane flies, which makes aerodynamics a critically important subject for pilots. The book's content has been arranged to provide a complete reference for all phases of flying, for both low and high altitude operations, applicable to the problems of flight training, transition training, and general flying operations.

This textbook is designed to be used with a Federal Aviation Administration (FAA)-approved Part 141 Pilot School Training Course Outline, and will be equally effective for aviation maintenance training, university courses and self-study. The major topics discussed in this textbook mirror the FAA requirements for training a new private pilot, commercial pilot, and future transport category (ATP) pilot.

Features key terms, color illustrations throughout, and mathematics described and depicted graphically for maximum comprehension. Review questions conclude each chapter.