After the Factory Reinventing America's Industrial Small Cities
, by
Connolly, James J.
;
Daly Bednarek, Janet R.
;
Dieterich-Ward, Allen
;
Goebel, Alison D.
;
Hicks, Michael J.
;
Lehman, Thomas E.
;
O'Hara, S Paul
;
Tumber, Catherine
;
Winling, LaDale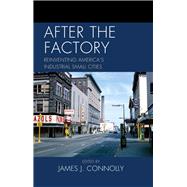 Note: Supplemental materials are not guaranteed with Rental or Used book purchases.
ISBN: 9780739148242 | 0739148249
Cover: Paperback
Copyright: 6/21/2012
The most pressing question facing the small and mid-sized cities of America's industrial heartland is how to reinvent themselves. Once-thriving communities in the Northeastern and Midwestern U. S. have decayed sharply as the high-wage manufacturing jobs that provided the foundation for their prosperity disappeared. A few larger cities had the resources to adjust, but most smaller places that relied on factory work have struggled to do so. Unless and until they find new economic roles for themselves, the small cities will continue to decline. Reinventing these smaller cities is a tall order. A few might still function as nodes of industrial production. But landing a foreign-owned auto manufacturer or a green energy plant hardly solves every problem. The new jobs will not be unionized and thus will not pay nearly as much as the positions lost. The competition among localities for high-tech and knowledge economy firms is intense. Decaying towns with poor schools and few amenities are hardly in a good position to attract the 'creative-class' workers they need. Getting to the point where they can lure such companies will require extensive retooling, not just economically but in terms of their built environment, cultural character, political economy, and demographic mix. Such changes often run counter to the historical currents that defined these places as factory towns. After the Factory examines the fate of industrial small cities from a variety of angles. It includes essays from a variety of disciplines that consider the sources and character of economic growth in small cities. They delve into the history of industrial small cities, explore the strategies that some have adopted, and propose new tacks for these communities as they struggle to move forward in the twenty-first century. Together, they constitute a unique look at an important and understudied dimension of urban studies and globalization.