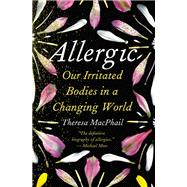 Note: Supplemental materials are not guaranteed with Rental or Used book purchases.
ISBN: 9780593229194 | 0593229193
Cover: Hardcover
Copyright: 5/30/2023
The definitive story of allergies, combining history, reporting, and cutting-edge science to lay out a radical new understanding of the changes in environment and lifestyle that are contributing to a stunning increase in cases

Hay fever. Peanut allergies. Eczema. Either you have an allergy, or you know someone who does. Billions of people worldwide—an estimated 30 to 40 percent of the global population—have some form of allergy; millions have one severe enough to actively endanger their health. Even more concerningly, over the last decade, the number of people diagnosed with allergy has been steadily increasing, an ever-growing medical burden on individuals, families, communities, and health care systems.

Medical anthropologist Theresa MacPhail, herself an allergy sufferer whose father died of a bee sting, set out to understand why. This book is a holistic examination of the phenomenon of allergies, from their first medical description in 1819 to the mind-bending recent development of biologics and immunotherapies that are giving the most severely impacted patients hope. In pursuit of this story, Theresa spent time with hundreds of experts, patients and activists: She scaled a roof with an air quality controller who diligently counts pollen by hand for hours every day; met a mother who struggled to use WIC benefits for her daughter with severe food allergies; spoke with doctors at some of the finest allergy clinics in the world; and discussed the intersecting problems of climate change, pollution, and pollen with biologists who study seasonal respiratory allergies, highlighting how porous and interconnected our bodies are to our changing environments—for example, diesel truck emissions can help deliver pollen deep into the lungs, which may partially explain why people who live next to major roadways are far more likely to develop asthma.

This is the story of allergies: what they are, why we have them, and what that might mean about the fate of humanity in a rapidly changing world. Because understanding what is irritating us and why will help us to craft better environments in the future—so we can all breathe easier.