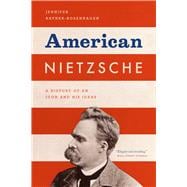 Note: Supplemental materials are not guaranteed with Rental or Used book purchases.
ISBN: 9780226006765 | 022600676X
Cover: Paperback
Copyright: 10/15/2012
If you were looking for a philosopher likely to appeal to Americans, Friedrich Nietzsche would be far from your first choice. After all, in his blazing career, Nietzsche took aim at nearly all the foundations of modern American life: Christian morality, the Enlightenment faith in reason, and the idea of human equality. Despite that, for more than a century Nietzsche has been a hugely popularand surprisingly influentialfigure in American thought and culture. In American Nietzsche, Jennifer Ratner-Rosenhagen delves deeply into Nietzsche's philosophy, and America's reception of it, to tell the story of his curious appeal. Beginning her account with Ralph Waldo Emerson, whom the seventeen-year-old Nietzsche read fervently, she shows how Nietzsche's ideas first burst on American shores at the turn of the twentieth century, and how they continued alternately to invigorate and to shock Americans for the century to come. She also delineates the broader intellectual and cultural contexts within which a wide array of commentatorsacademic and armchair philosophers, theologians and atheists, romantic poets and hard-nosed empiricists, and political ideologues and apostates from the Left and the Rightdrew insight and inspiration from Nietzsche's claims for the death of God, his challenge to universal truth, and his insistence on the interpretive nature of all human thought and beliefs. At the same time, she explores how his image as an iconoclastic immoralist was put to work in American popular culture, making Nietzsche an unlikely posthumous celebrity capable of inspiring both teenagers and scholars alike. A penetrating examination of a powerful but little-explored undercurrent of twentieth-century American thought and culture, American Nietzschedramatically recasts our understanding of American intellectual lifeand puts Nietzsche squarely at its heart.