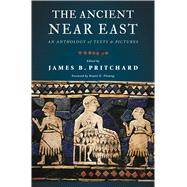 Note: Supplemental materials are not guaranteed with Rental or Used book purchases.
ISBN: 9780691147260 | 0691147264
Cover: Paperback
Copyright: 11/8/2010
James Pritchard's classic anthologies of the ancient Near East have introduced generations of readers to texts essential for understanding the peoples and cultures of this important region. Now these two enduring works have been combined and integrated into one convenient and richly illustrated volume, with a new foreword that puts the translations in context.
With more than 130 reading selections and 300 photographs of ancient art, architecture, and artifacts, this volume provides a stimulating introduction to some of the most significant and widely studied texts of the ancient Near East, including the Epic of Gilgamesh, the Creation Epic (Enuma elish), the Code of Hammurabi, and the Baal Cycle. For students of history, religion, the Bible, archaeology, and anthropology, this anthology provides a wealth of material for understanding the ancient Near East.
-Represents the diverse cultures and languages of the ancient Near East--Sumerian, Akkadian, Egyptian, Hittite, Ugaritic, Canaanite, and Aramaic--in a wide range of genres:
--Historical texts
--Legal texts and treaties
--Inscriptions
--Hymns
--Didactic and wisdom literature
--Oracles and prophecies
--Love poetry and other literary texts
--Letters
-New foreword puts the classic translations in context
-More than 300 photographs document ancient art, architecture, and artifacts related to the texts
-Fully indexed
''Pritchard enlisted some of the best scholars of his day to translate myths from Mesopotamia, novellas from Egypt, and calendars from Palestine. They provide an amazing backdrop to reread, and in some cases reinterpret, the Bible. Furthermore, the translations themselves are works of art. . . . These translations have staying power. Not only do they convey the cultural environment of the biblical world but they do so with elegance and timeliness. The translators achieved an admirable balance of fidelity to the original compositions and imaginative creativity.'' - Books Culture