Ancient Scandinavia An Archaeological History from the First Humans to the Vikings
, by
Price, T. Douglas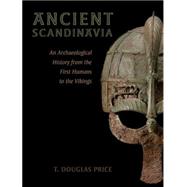 Note: Supplemental materials are not guaranteed with Rental or Used book purchases.
ISBN: 9780190231972 | 0190231971
Cover: Hardcover
Copyright: 7/10/2015
Although occupied only relatively briefly in the long span of world prehistory, Scandinavia is an extraordinary laboratory for investigating past human societies. The area was essentially unoccupied until the end of the last Ice Age when the melting of huge ice sheets left behind a fresh, barren land surface, which was eventually covered by flora and fauna. The first humans did not arrive until sometime after 13,500 BCE. The prehistoric remains of human activity in Scandinavia - much of it remarkably preserved in its bogs, lakes, and fjords - have given archaeologists a richly detailed portrait of the evolution of human society.

In this book, Doug Price provides an archaeological history of Scandinavia-a land mass comprising the modern countries of Denmark, Sweden, and Norway-from the arrival of the first humans after the last Ice Age to the end of the Viking period, ca. AD 1050. Constructed similarly to the author's previous book, Europe before Rome, Ancient Scandinavia provides overviews of each prehistoric epoch followed by detailed, illustrative examples from the archaeological record. An engrossing and comprehensive picture emerges of change across the millennia, as human society evolves from small bands of hunter - gatherers to large farming communities to the complex warrior cultures of the Bronze and Iron Ages, which culminated in the spectacular rise of the Vikings. The material evidence of these past societies - arrowheads from reindeer hunts, megalithic tombs, rock art, beautifully wrought weaponry, Viking warships - give vivid testimony to the ancient humans who once called home this often unforgiving edge of the inhabitable world.