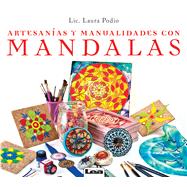 Note: Supplemental materials are not guaranteed with Rental or Used book purchases.
ISBN: 9789876342780 | 9876342789
Cover: Paperback
Copyright: 9/1/2010
Women of our grandmothers' generation often passed the time crocheting, adorning the centers of their tables with these circular pieces. Who can say that these aren't mandalas? Like any other mandala, they required concentration and hours of rhythmic labor. The mandala is a tool for active meditation in which the meditation process and rhythmic repetition activate the release of endorphins and the right cerebral hemisphere, the same as meditation or prayer.

Nuestras abuelas solían hacer trabajos de crochet o ganchillo, y con esas carpetas circulares adornaban los centros de sus mesas. ¿Quién podría decir que esas carpetas no son mandalas? ¿Quién podría descalificar el valor de ese trabajo, que también necesitó de muchísima concentración y horas de labor rítmica? ¿Qué diferencia a esas carpetas de un complejo mandala con sus ritmos circulares? El mandala es un instrumento de meditación activa y de curación en un sentido amplio, en el cual el proceso de meditación y repetición rítmica pone en funcionamiento un proceso de liberación de endorfinas a nivel cerebral, y la concentración en un patrón repetitivo favorece la activación del hemisferio derecho cerebral, ofreciéndonos la química de la meditación y la oración. El objetivo de este libro es presentar proyectos artesanales, algunos más complejos que otros, como simples excusas para que cada lector se acerque a la forma del mandala y a su poder creativo, a la vez que fomenta la unión de las ventajas armonizadoras de los diseños con las tareas manuales y artísticas. Así, el mandala funcionará como una tarea simbólica y de sanación psico-espiritual, abriendo un camino de autodescubrimiento y ampliación de la conciencia. Además, muchos de los proyectos presentados pueden realizarse entre padres e hijos, como una vía de comunicación y transmisión de valores sostenidos por la fuerza del amor.